Howard Tate never really recorded enough. With a voice to melt an iceberg the Philadelphia singer gave up on studio work  in the 70's for over 10 years and had to wait for over 40 years to achieve acclaim for his recordings. 
The Fabulous Hoplite looks at the  career of one of souls great voices.
Born in 1939 Howard Tate was the son of a minister in the Baptist church and began singing in the choir of his fathers church from the age of 7. When the gospel group The Gainors visited the church they invited
Tate to join them. Tate was 10 years old. The group performed at churches all over Philadelphia and was offered a recording contract by Mercury in 1955 on the understanding they recorded Doo Wop. Several 45's were released on Mercury and Cameo by the group without success and Tate left the group in 1960 to work as vocalist for the organist Bill Doggett. Doggett (pic. right)was an established artist with a number of hits in the R&B and Billboard charts. He toured with Doggett for three years before returning to Philadelphia in 1963.
The Gainors had signed to United Artist records in 1963, changed their name and had a huge hit with their debut single on UA records with Cry Baby under their new name Garnet Mimms and The
Enchanters. The single was written and produced by Jerry Ragovoy. Tate met up with his former group members and by chance Ragovoy was present. Mimms introduced the two and Ragovoy (pic. left) was blown away the range and tones of Tate when he sang with the group for "old times sake". He wasted no time in recording Tate, signing him to Verve records and a recording session in 1964 resulted in the brilliant single; Ain't Nobody Home which hit the number 12 spot on the R&B charts. Tate had recorded 8 singles and just one album for Verve when he left the label in 1968 having minor success with a couple of the singles on the R&B charts (Look at Granny Run Run in 1966 & Stop in 1968). All his work was produced by Ragovoy. Tate was to blame his lack of success on the Jazz label not marketing him to an R&B buying public.
Three singles (the first in 1969 and two in 1970) and an album (1970) were recorded for the Turntable label without chart
success. He then signed to Atlantic to work with Ragovoy again and recorded one album from which two singles were released in 1972, again success wasn't to come and after a single which flopped for Epic in 1974 Tate stopped recording for over 10 years. He continued to perform live at nightclubs until 1980 when he gave up music altogether. While he lacked commercial success in the states his recordings were much loved on the mod scene in the 60s and the northern scene in the following decade and beyond.Something he would remain oblivious too for many years.
He flirted with music again with a session for TBF records in 1986 resulting in a 12inch single but drugs had become a major problem in his life and he became a homeless heroin addict. In 1994 he became a born again christian, giving up drugs he became a preacher and spent his time helping the homeless addicts of New York.
   In 2003 Ragovoy was to be reunited with Tate
and an album of new material was recorded. Howard Tate, Rediscovered was released in 2003 to acclaim from soul fans and music critics alike. Although this was to be his last recording it was to lead to touring of both the USA and Europe, giving northern soul fans a chance to see one of their unsung hero's perform live. Tate passed away in 2011.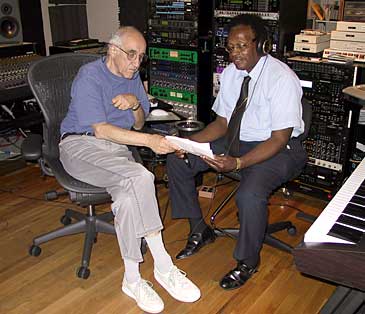 above; 1968 Tate and Ragovoy in the Verve studio and together again in 2003 for the album Rediscovered.