In June 1968 Peaches and Herbs singer Herb Fame was shot by his road manager Walter Booth. Herb was critically wounded in a motel in Columbia, Southern California after playing a gag that went horrifically wrong.
The accidental shooting happened after Herb knocked on Booths motel door and jokingly said, "Your money or your life". Booth recognized Herb's voice and going along with the gag went to open the door with a .38 calibre pistol in his hand. As he unlocked the door the gun accidentally went off, firing a shot through the door and striking the singer in the abdominal area. The bullet penetrated four layers of intestines causing a life threatening wound. Police arrested Booth who didn't have a license for the weapon and he was held on a $5000 bail.
After regaining consciousness Herb told police from a hospital bed the story and Booth was released and charges dropped. The soul duo were on a national tour at the time and had to cancel bookings for July that cost the tour $50 000 in ticket sales. Thankfully Herb made a full recovery and the duo went on to have another five U.S Billboard top 100 hits between 1968 and 1970 to add to their seven other chart hits before spitting in 1971. The duo reformed in 1977 with Linda Greene replacing Francine Barker as Peaches. In 1978 the duo had their only U.S number 1 and UK top ten hit (reaching number 4) with the 70s soul smash Reunited.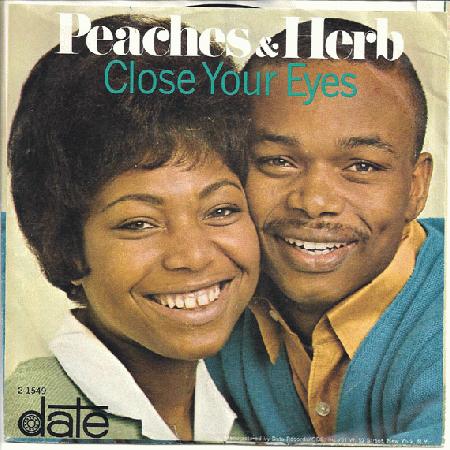 above;   Picture cover from Peaches & Herbs first release Close Your Eyes from 1967.